Seamless integration with your Practice Management System
Why work with us
Designed to support your best care, Trupanion's game-changing free technology empowers you to create the ideal experience for your team, your clients, and your patients.
Working with Trupanion at a glance
claims paid directly to the hospital are settled in less than 5 minutes
of eligible claims paid directly to your hospital**
more visits* from Trupanion-insured pets to your hospital
revenue increase* from reduced credit card fees, increased client loyalty, and greater treatment compliance
How much can you save on an insured case?
Insured clients can save you time as well as money. Use our calculator to get your personalized report covering -
The number of daily visits your hospital can expect to add in a week
Your estimated annual savings on credit card fees from direct payments
The amount of time—down to the minute—your hospital can save per week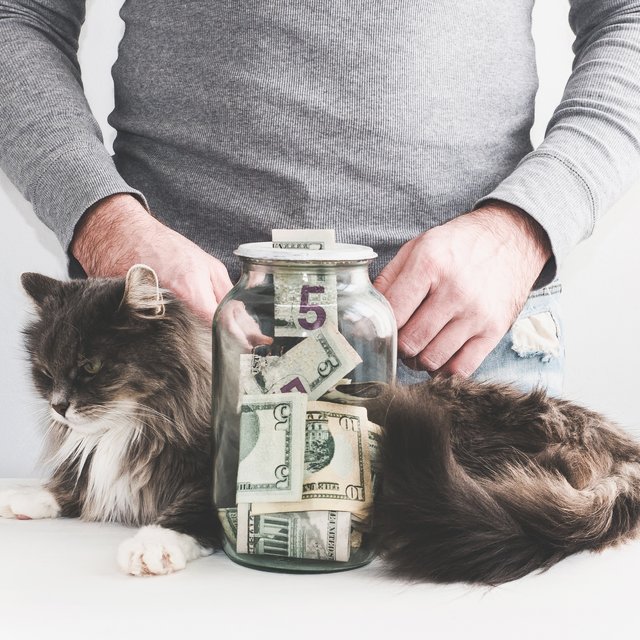 Here's what an ideal experience looks like:
ELECTRONIC CLAIMS
The entire Trupanion claim experience is paperless—from submission to decision. And, we pay first directly to your hospital, so pet owners don't have to wait for a reimbursement.
INCREASE LOYALTY
When pet owners are financially prepared for the unexpected, they have fewer barriers and stronger bonds with veterinarians over time. Trupanion members are active at hospitals 3X longer than non-insured clients.
BETTER MEDICINE
When decision making isn't dictated by cost, veterinarians don't need a plan B. Clients with insured pets can take the best course of action.
REDUCED ECONOMIC EUTHANASIA
When treatment costs aren't out of reach, pet owners can explore all their options.
MORE VISITS
Whether it's a walk-in, emergency, or scheduled appointment, pets with a Trupanion policy visit hospitals 2X more than non-insured pets.
BETTER BUSINESS
Clients with a Trupanion policy spend 2X more at hospitals compared to non-insured pet owners. They're also more likely to use a hospital's in-house pharmacy.
Digital Exam Day Offer
A paperless tool to help increase your insured client base
Exam Day Offers provide the same lifelong coverage as our core policy, but with no waiting periods. And with the click of a button, our technology makes it easy for you to let us know if a pet is eligible for immediate medical insurance coverage. We'll send interested clients an email and text with the offer.
How It Works
Trupanion's technology is a free, easy-to-use web-based application that saves time, reduces paper work, and helps more pets receive the care they need.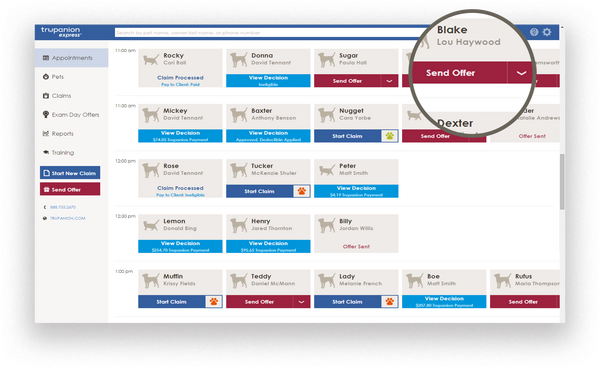 Quickly alert us which pets are eligible for a digital Exam Day Offer – no paper necessary.
The entire Trupanion claim experience is electronic.
Trupanion pays claims directly to your hospital's bank account in minutes.
We pay our portion first so pet owners don't have to wait for a reimbursement.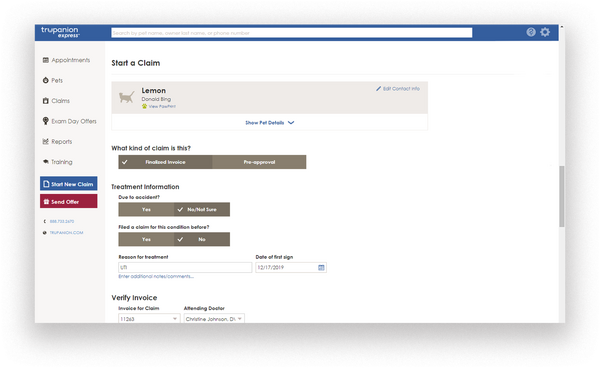 DuPont Veterinary Center
Jonathan Baker
DVM
I am absolutely a firm believer that pets with insurance get better medical care. We can just go right to diagnostics, treatment. It makes me feel like I can provide the best care possible.

Mohnacky Animal Hospital of Carlsbad
Crystal Monroe
Veterinary Nurse
We strive to offer the best medicine and care for our furry patients. With Trupanion there's a no-fuss, no-wait reimbursement through Trupanion Express.

Rose City Veterinary Hospital
Shanna Peterson
Practice Manager
Our clients are very happy with the pay-to-hospital feature - it completely takes the question of whether or not to treat an accident or injury off the table!