Real Talk: Self-Care Tips from Practicing Veterinarians
POSTED ON : October 5th, 2020
MightyVet and Not One More Vet (NOMV) teamed up to ask veterinarians to identify their biggest stressors during their day and what coping mechanisms they use to help them navigate those stressors.
Everyone is talking about self-care and well-being – from the front page of your favorite magazine to a character in your favorite television show. And in this time of COVID-19, with increased workloads, stress, and burnout, more and more people are putting a spotlight on ensuring you are focusing on yourself as well as your job and your loved ones.
For veterinarians in particular, we know that life in practice can be very difficult, regardless of the additional challenges during COVID-19. In an effort to identify real-world, helpful tips to combat the daily challenges, we asked veterinarians to share what specific moments in their day are the most stressful and what, if anything, they have identified as positive coping strategies.
The trouble with time
The word cloud below shows the most common words used in response to the question: 'What moments of your day are the most stressful?' The bigger the word, the more often that word was used in a response. As you can see, time is the biggest stressor for veterinary professionals.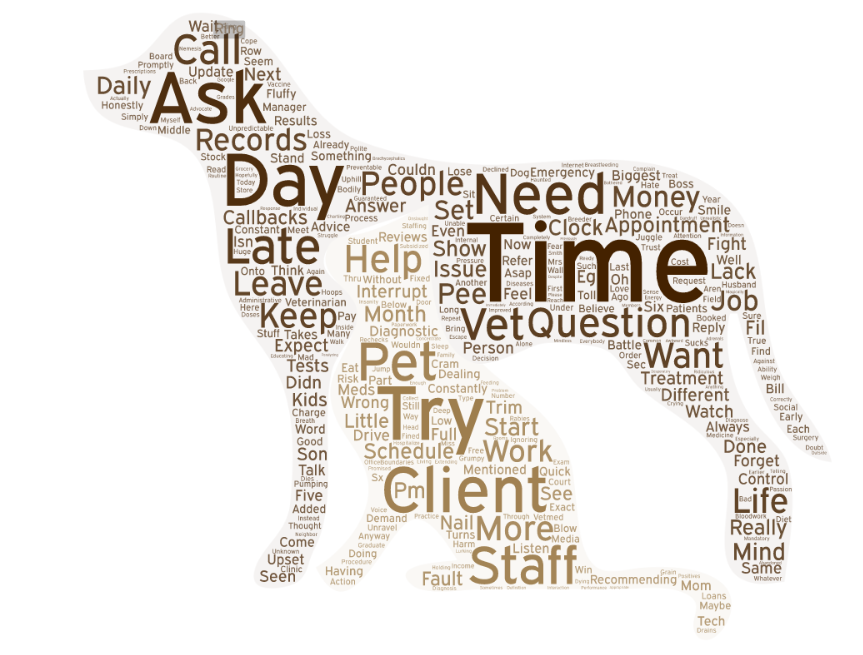 "I would say lack of time is the number one daily stressor," said Dr. Nicole. "Trying to update records/bill/make callbacks/order meds/stock and drive to the next appointment, then emergencies start to blow up the schedule."
Dr. Johnson agrees: "We can only do so much in a set day and need to set boundaries."
Several others mentioned the time they need for family responsibilities, which can be very hard to juggle as questions and last-minute appointments push the day longer and longer.
"I have to leave work promptly at 5pm to pick up my son," said Dr. McCarthy Orta. "We all know the world of vetmed is unpredictable, so needing to leave at a certain time is stressful."
As a working mom, Dr. Halmer also said that making sure she leaves on time to pick up her children is the biggest stress of the day.
Other top stressors from this survey include:
Being barraged with questions or being the go-to person for every question
Clients ignoring recommendations or being unable to pay for care
Keeping staff members happy
Do any of these sound familiar?
Combatting time with time
Knowing what stresses you out during the day is easy, but finding ways to cope with the stress is much more difficult. In the word cloud below, you can see the top ways veterinarians are coping with their daily stress.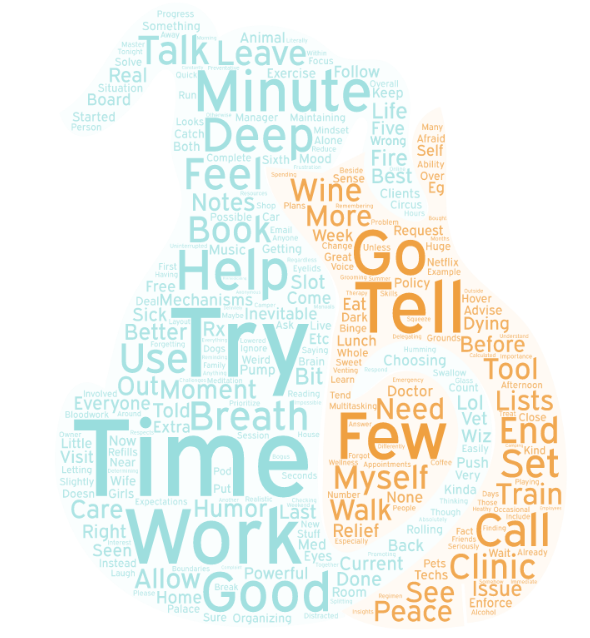 Interestingly, the most popular word in answer to the question, "What coping mechanisms do you use?" is also time – which includes making time during the workday to get everything done and taking time outside of work for extracurricular and family activities.
"[I cope with] real time off," said Dr. Newman, "not the kind where we are getting calls about pets or rx refills." She also said spending time with family and friends outside of work is helpful to decompress from the workday.
Dr. Rauschendorfer gives herself more time by splitting time with other doctors. Similarly, Dr. Broadley uses her techs as much as possible to get bloodwork going and everything set up before she enters the room. These tips tie in to an overall recommendation to delegate and to not only set boundaries with staff when you need time alone, but also empowering staff to make certain decisions.
"I tell [my staff] not to talk to me for 'x' number of minutes while I catch up," said Dr. Heaton. "I am very easily distracted, and sometimes just need that uninterrupted time to get things (especially notes) done."
Or there is always circus music
Of course, we all have our unique ways that help us cope. Here are some of the funnier tips from veterinarians who took our survey:
My coping mechanism is not forgetting to visit the wiz palace.
…dark humor…
The occasional binge of Netflix.
Sometimes, I end up humming circus music, just to set the mood.
What are your current stressors and coping mechanisms?
About MightyVet
MightyVet is a non-profit organization dedicated to bridging the gap in veterinary education so veterinary professionals are aware of and prepared for the challenges they face in practice. Join the movement at mightyvet.org.
About Not One More Vet
Not One More Vet is a non-profit focused on veterinary wellbeing. NOMV serves the veterinary community via its peer-to-peer support group, grant program, and by providing educational content and resources to veterinarians across the globe.