Trupanion is Here to Support our Veterinary Heroes
BY: Samantha Stewart |
POSTED ON : May 7, 2020
We know that you are navigating through uncharted territory right now. With social distancing and shelter-in-place orders, hospitals like yours are busier than ever, while also trying to practice current safety protocols, devise ways to save valuable staff time, maintain revenue, and deliver a great client experience.
It's a lot. But we're here to show you how we can help.
How?
Our free, patented software (created by veterinarians) supports your team, business, clients, and patients—saving both you and your clients time and money.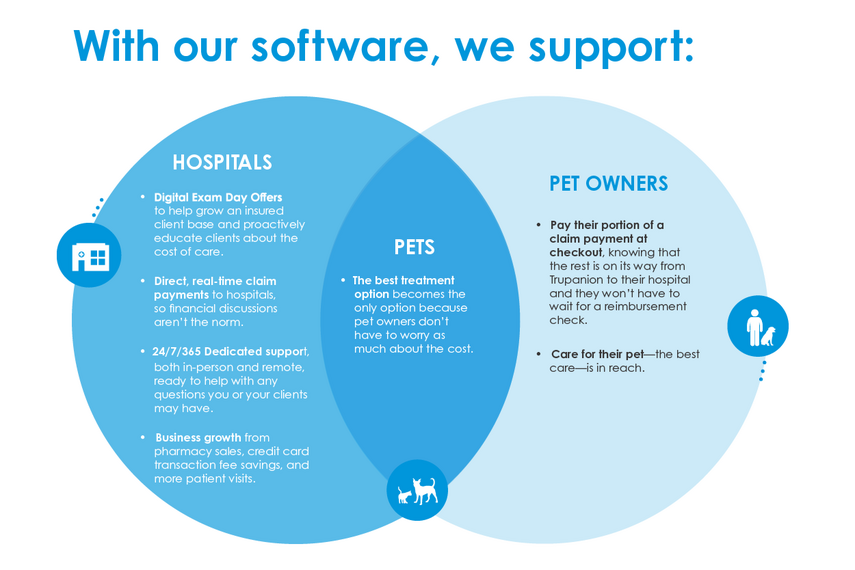 This easy-to-use tool removes financial barriers for pet owners by reducing clients' out-of-pocket expense at checkout. How? Our software automates the claim submission and decision process. Meaning, you can submit claims in just a few clicks, and receive a claim decision in less than five minutes. Your client pays their portion at checkout and we deposit the rest directly into your hospital bank account. Pretty cool right? More on that in a minute.
By removing the financial barrier to care, we're also removing the barrier to your pharmacy. Eliminating the need for your clients to price shop pet medication, leads to pet owners buying from you directly and results in an increase in your pharmacy sales. In fact, when looking at the average of all hospitals using our software, 90% of Trupanion-covered prescriptions are bought directly from the veterinarian*.
At the same time, it saves your hospital money in reduced credit card transaction fees through direct real-time payments to your hospitals bank account. Can you feel your margins growing yet?

Trupanion is a payment type
When your Trupanion clients receive an invoice for unexpected care, some struggle with payment for the full amount and find it difficult to wait for a reimbursement check.
We're eliminating that reimbursement model. With our software in your hospital, Trupanion is a payment type, meaning your hospital can submit claims electronically and receive direct payment from us.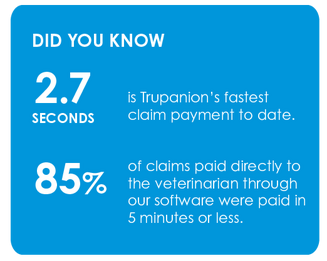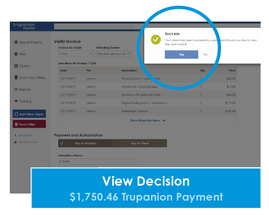 Claims are submitted with a click of the button and 85% of claims paid directly to the veterinarian through our software were paid in 5 minutes or less. That's right, less than five minutes! No more filling out claim paperwork by hand and faxing it over. Trupanion payments are noted on invoices, allowing your clients to pay their remaining share of the invoice before they leave your hospital. We do the math so all you have to do is enter what Trupanion paid and bill the remaining balance to the client.
Want to grow your insured client base?
Digital Exam Day Offers help start the conversation about medical insurance for pets and can provide coverage before they leave your hospital. All you have to do is click a button in the software to notify us about the eligible pet. The pet owner receives an email or text with an offer for immediate medical coverage—all waiting periods are waived.
Exam Day offers are a great tool to help clients experience the value of insurance early on so their more likely to stay enrolled for the life of the pet. Take Rusty's story for example: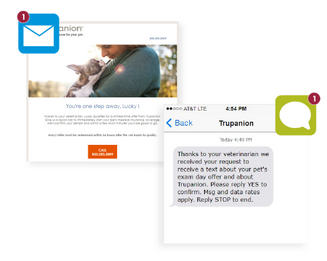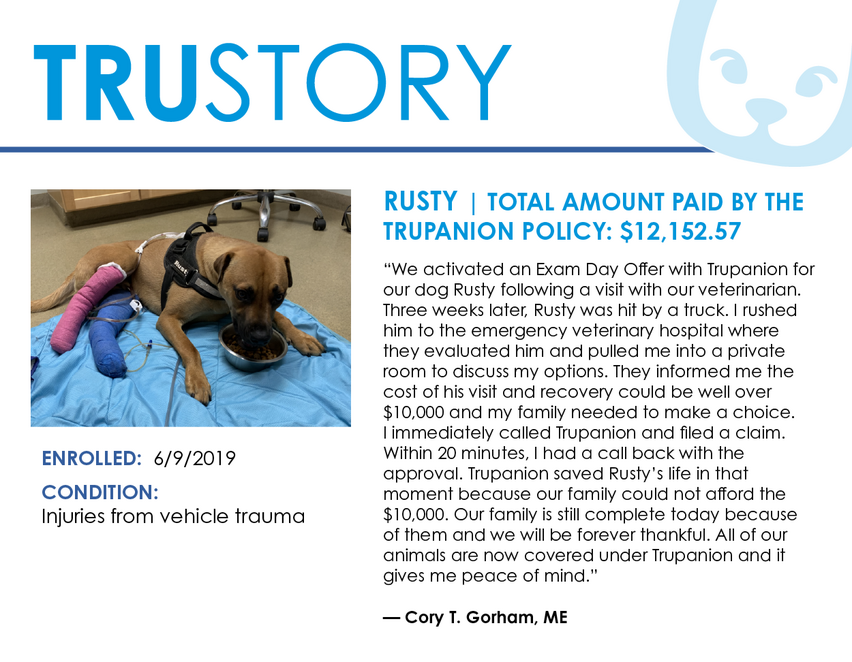 What veterinary professionals are saying
Trupanion's direct pay is a lifesaver for my clients and allows me to treat more pets! When we get approval within seconds that the costs are covered by Trupanion, my clients feel such relief and are so happy they picked the only pet insurance that does on-demand preapprovals and real-time claims. It's easy for my staff to use, takes the pressure off the client and the vet, and gets the best care for the pet. Win, win, win.
Shira A. Rubin, DVM
Alpine Animal Hospital
Mountain View, CA
See for yourself
Ready to get started? We can't wait for you to access this free tool.
What separates Trupanion from the rest is our dedicated support teams and vast resources to help you provide the best client experience.
If you want to speak with one of our pet-loving humans to learn more, please call 855.727.9085, email us directly at [email protected], or you can use this map to find your local Territory Partner.
Or, if you want to see the software in action, you can watch a short two minute demo video by clicking here.
Trupanion can help you install the software remotely in minutes, and our dedicated team will provide your key reception staff members with a brief, remote hands-on demo, plus ongoing training as needed.
Our award winning software is used daily in over 5,000 thriving hospitals across the U.S., Canada, and Puerto Rico, and has been delighting pet owners, vets, and staff since 2012. There's simply nothing else like it.
During this time of unknown, and beyond, we hope you lean on us for support. We want to reassure you that Trupanion is here for you—24/7/365. No matter what.
*Based on an internal Trupanion study.